Family Owned Since 2005
Suncoast RV Rental
Clean & Sanitized RVs. 
We take infection control precautions every day to prevent the spread of all infections. Providing clean and sterile RV Rentals has always been our protocol but even more so during this difficult time. We are following CDC recommendations and staying abreast of changes per the World Health Organization, CDC, and the state departments of health.
Accordingly, we are minimizing our staffing hours from 8am to 3:30pm Monday through Friday and 8am to 12:30pm on Saturday. We are always available for appointments, however, by phone or digital communication.
Florida's leading Family-Owned RV rental agency since 2005.
Reservations are directly with Suncoast RV Rental as the provider, not a 3rd party booking agency.
You're our guest, not just a renter.
Cleanliness is of highest priority, RV's sanitized and fogged with KOC-86.
Coaches purchased new directly from the manufacturer; (fleet management services available for select RV's).
Broad RV selection, from 23' Class C's to 35' Class A's even 40' diesel pushers.
Committed to RV Rental industry excellence, members of RVRD.org, FRVTA.org, RVRA.com and GoRV'ing.com.
Statewide Delivery, Set-Up available for special events.
Support available through-out your trip.
You are a guest, not a customer
Cell phone contact with staff and RV tech throughout the trip
Large selection of current model RVs
RVs are in top condition
Cleanliness is a top priority
Statewide Delivery, Setup, and Pick-Up available 7 days a week
FREE Generator
FREE Mileage up to 200 miles per day
FREE RV Driving Certification Classes
RV Driving Certification and Systems Orientation
Whether you are a first time RVer or are just trying out a bigger model, operating an RV the first time can be intimidating. Making sure that you are comfortable driving and using the various systems of the motorhome.  This is why all of our rentals include a full orientation to ensure that you have a basic understanding of the varying coach systems.  We also provide a RV Driving Certification course for all of our renters upon request.
The Suncoast RV Rental fleet is all new year RVs in a variety of sizes and styles. Click on the links below to view the options.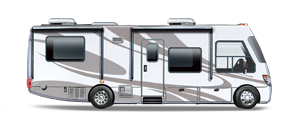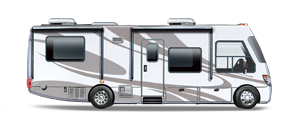 Customer satisfaction is our number one goal at Suncoast RV Rental. We strive to ensure that all of our guests have an amazing experience. Based upon the numbers, we are doing pretty good!
RV Lifestyle and Travel Articles
Holiday seasons offer a great chance to meet with family and solidify members' bonds. During these seasons, individuals work through several travel plans to visit friends and family. Of all the traveling options, RVing is one of the most convenient ones for...